Happy Friday, peeps!
How's your week been?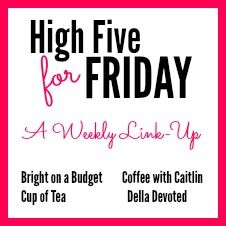 Mine's been pretty good - quite often I struggle to think of five highlights but this week is overflowing
(despite the fact I've not blogged so far this week and it's Friday, sorry
#musttryharder
)...
1 |
Got my boy back from his week-long Scout Camp on Saturday and he returned with a new friend for me from his day trip to Woburn Safari Park; everyone, meet Sid the Giraffe :)
2 |
Hubs and I enjoyed a spontaneous date night on Monday, which all started with Debenhams having up to 60% off sofas. We ventured into town to have a look but didn't end up buying a sofa and instead I treated myself to a new waterproof coat and Hubs bought some new trainers. We then headed to Nando's for dinner :)
3 | To continue the trend of eating out on school work nights, I caught up with my bestie (who I've not seen since May!) on Tuesday night; we enjoyed some delicious tapas and caught up on the past few months. Hopefully we won't leave it quite so long next time!
4 |
I can barely contain my excitement for this next highlight, which has actually yet to happen; later today, at approximately 3pm, Hubs and I are going to see the inside of our new home for the first time ever - EEEKK!!
Our new house, as it was on Monday 10th August :)
It's not 100% finished, but we will get a great sense of the space we're buying and how we might live in it; I could literally burst with excitement.
5 | It's a three-day weekend (and we all know they're the best kind), so Hubs and I have a car boot, house shopping and family time planned; I'm gonna enjoy every second.
Have a good one, whatever you do!