Happy Hump Day, y'all.
I never normally say things like y'all but today is a special occasion; I'm teaming up with my blogging bestie, the beautiful and super talented Kelly from Love, Kelly Lorene to announce April's Blogger to Blogger Book Club...
Being a Brit, I had no clue, but apparently April is the

start of regular season baseball.

To celebrate, Kelly and I thought

it would be fun to read a book with some baseball in it... step forward

A League of Her Own

by

Karen Rock...
He was attractive, talented…and way off limits.
Heather Gadway may have been a world-class college pitcher and a top university coach, but she's a rank amateur when it comes to managing the Falcons, her father's struggling minor league team. And when it comes to managing her aggravating attraction to Garrett Wolf, their talented new pitcher. It's going to be difficult enough to make it as the first female manager in the league and prove to her overly critical father she's worthy. No distractions. No missteps. And certainly no romances with players. Everything stands between them - including their troubled pasts - even as Heather's world falls apart and Garrett's the one who's there to catch her…

BUY THE BOOK
Paper Back | Kindle | Nook
DISCUSSION QUESTIONS
This month we're extra lucky! Our discussion questions come from the author herself!! I don't want to post them on here because there might be a few spoilers. I honestly haven't read them yet because I don't want to spoil the book for myself. Sooooo when you're ready to answer some questions you can find there HERE.
OTHER STUFF
Don't forget to share your links, thoughts, and opinions throughout the month on Twitter, Facebook and Instagram using
#Blog2BlogBC
. If you haven't already go join our
Facebook Group
and join in the conversation there. Also, if you're interested in being a co-host (
it's super easy and super fun
) all you've gotta do is
fill out this form
.
Kelly f
igured with a new blog name and a new design, we deserved to have a new book club button.
What do you think? It's super cute, right?!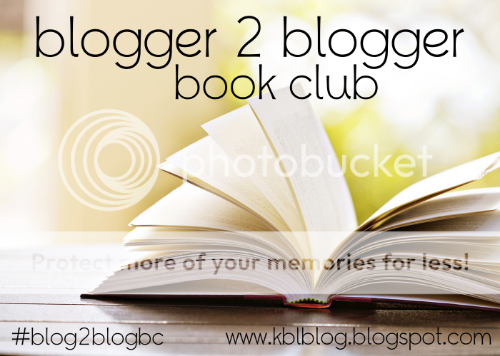 Happy reading!