It might be a bit late in the day, but here's my review for this month's Blogger 2 Blogger Book Club in which I've teamed up with the beautiful
Kelly
to co-host as we read
A League of Her Own
by
Karen Rock
Description:
He was attractive, talented…and way off limits.
Heather Gadway may have been a world-class college pitcher and a top university coach, but she's a rank amateur when it comes to managing the Falcons, her father's struggling minor league team. And when it comes to managing her aggravating attraction to Garrett Wolf, their talented new pitcher. It's going to be difficult enough to make it as the first female manager in the league and prove to her overly critical father she's worthy. No distractions. No missteps. And certainly no romances with players. Everything stands between them - including their troubled pasts - even as Heather's world falls apart and Garrett's the one who's there to catch her…
This month we were extra lucky, as the discussion questions come from the author herself! You can find them here.
Heather has complicated relationships with both of her parents. In what ways has each parent's impact influenced the person she became as an adult? How have your parents and your childhood moulded you into the person you are today?
I have to say, I was not a fan of Heather's dad. He was so mean; I understand that some people take a tough love approach but I did feel like this went a little beyond that and so it made Heather constantly strive to prove herself, to be better, which admittedly isn't always a bad thing, but I think it greatly affected Heather's confidence and her happiness.
I am the eldest child; I have a younger brother who is five and a half years young than I am. I often wonder what I would be like as a person if I were the younger sibling and I also wonder what my brother would be like if I weren't so much older than eh is; my mum says he had two mums growing up because I was so bossy. While that's something I try not to be these days, I do wonder how my bossy nature affected who he is and whether I would have been as bossy if I'd been the younger child. I guess only parallel universe me knows the answer to this!
Addiction also plays a major role in the novel. How does Heather, her mom, Garrett, and Heather's father cope with it? In what ways are they effective in dealing with this issue and how could they have done better?
Addiction is an illness that is different for everyone, so I don't know how any of the characters could have dealt with it better; we all cope differently, but I so think communication is key.
In what ways did this book capture the world of professional baseball? How did experiencing it through the eyes of a female character impact the story?
Other than catching a few minutes on TV, I have absolutely no first-hand experience of baseball; it's not a big sport here in the UK, so I dunno that I'm the best person to comment on 'the world of professional baseball' however, I do think that this book does a great job at showing what it must be like to be a woman in a male-dominated world such as sports. I think there should be more stories like this; in fact, it would be good to read one about a sportswoman who wasn't romantically linked to any other character... but that's just something my cynical heart wants!
Don't forget to share your links, thoughts, and opinions on Twitter, Facebook and Instagram using #Blog2BlogBC. If you haven't already, go join our Facebook Group and join in the conversation there.If you've written your own review, link up below!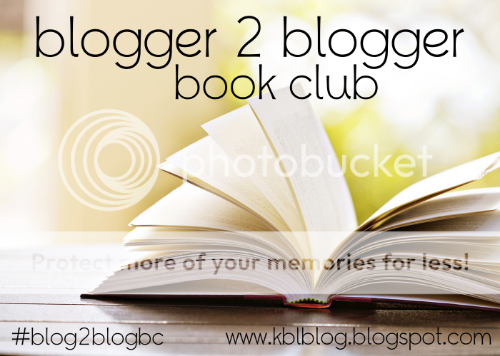 Happy Friday-eve!