For only the second time, Hubby is taking over my blog today...
1. What's your lucky number? I haven't got one really, but 26 is a great number (Laura: both Hubby and I
were born on the 26th of our respective birthday months)!
2. Do you have a lucky charm? It's not really a lucky charm, but when I play football (soccer), I always
put my left boot on first.
3. Do you fill out a bracket for March Madness? Who do you want to win? I don't understand March Madness this year, but I will hopefully have more of an idea for next year, as I'm currently catching bits of the NCAA Basketball league on ESPN.
4. March 10th is "Middle Name Pride Day." What's your middle name? I have two: Paul Anthony
(Laura: and it's a right mouthful when you have to say his full name during the vows in your wedding ceremony,
I can assure you of that - do not give your kids two middle names, people!)
5. Submit one question that you would like to see on a future The Boys Behind the Blog. I can't think of one; this is only my second time participating and the questions have been pretty good so far :)
- - - - - - - - - - - - - - - - - - - - - - - - - - - - - - - - - - - - - - - - - - - - - - - - - - - - - - - - - - - - - - - - - - - - - - - - - - - -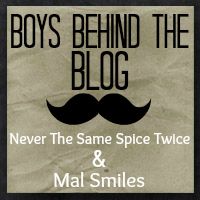 You can find out more about Boys Behind The Blog here and here
Happy Thursday :)