Today, I'm taking part in a link-up I have only recently discovered...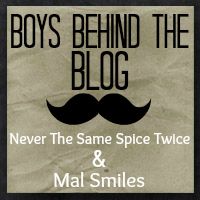 The beautiful Mal over at
Mal Smiles
(along with Stephanie)
invites us, on every third Thursday of the month,
to get our man
(husband/fiancé/boyfriend/best guy friend/dad/brother/grandpa)
to answer five easy questions and then link up with other bloggers as part of 'Boys Behind The Blog'.
Well, I thought this idea was genius
even though none of my readers have ever expressed an interest in finding out more about Hubs
, so, after some arm twisting
(which included mentioning that taking part in today's link-up gives us the chance to win a $30 Amazon gift card!)
, we're giving it a go today. So over to you, Tom...
1. If you could live anywhere, where would you live?
The one place I would like to live is Australia; I went there on honeymoon and spent three weeks in the country - three weeks is not long enough. I have a soft spot for the Australian lifestyle that I would love to experience full-time.
2. Sand or snow?
Snow, all day long! Just so much fun; yes it's cold but, you can't throw sandballs. (Laura: he has a valid point, you can't throw sandballs, lol)
3. What Winter Olympic sport would you rock at?
I'm not too sure as I'm not a skier (went with school when I was 15 but that's it and spent most of the time falling over) and I can barely stand up on ice skates (Laura: that is not true - he's actually pretty good at ice skating), so I guess I would have to say bob-sleigh, as you just sit in what looks like an aerodynamic tin can, right?
4. You're cooking a romantic dinner- what is your go-to dish?
I would have to say tuna napolitana as I can cook that without even looking at the instructions and it's very tasty (Laura: it is!).
5. Fill in the blank: This year, I gave (your wife/girlfriend/fiancée's name) a _________________
for Valentine's Day?
This year, I gave Laura a big kiss and hug for Valentine's Day, as I do everyday, as I don't believe in all the hype of the day - why should I show my love on just one day when there are 364 (or 365) other days in the year to show someone you love them?! Why should I conform to society, as buying a bunch of flowers on other days of the year is more thoughtful and not just purchased (at over the top prices, may I add) because I have to, because everyone else does!!!!
- - - - - - - - - - - - - - - - - - - - - - - - - - - - - - - - - - - - - - - - - - - - - - - - - - - - - - - - - - - - - - - - - - - - - - - - - - - -
There you have it! Don't you feel like you know Hubby just a little bit better now :)
If you want to find out more about Boys Behind The Blog, click here
Happy Thursday :)

If you enjoyed this post, please share it via your preferred social media.